What we offer
We offer private tours and transfer services from Katakolon port to Olympia and other nearby destinations.
Once you arrive in Katakolon you have a variety of things to do and places to visit. We have selected to show you the best Ancient Olympia has to offer and plan your excursion in a way that your tour will suit you best according to your interests and timeframe.
You can choose to either enjoy a private tour from Katakolon to Olympia, and/or any other place of your interest, with full guidance along the way by an experienced officially licensed tour guide, or if you want to explore these places on your own, we can arrange for you private transportation there with a luxurious, fully air-conditioned private vehicle driven by an experienced professional driver.
Explore the birthplace of the Olympic Games and learn much of the rich history of Ancient Olympia, enjoy a beach getaway at one of the nearby famous beaches like St. Andreas and Kourouta, visit some of the most well-known monasteries of the area like Kremasti and Skafidia, explore the well preserved medieval castle of Chlemoutsi, visit one of the local wineries and enjoy a wine tasting experience, learn much of the land's "green gold" by visiting a local olive oil press to smell and taste pure virgin olive oil, put your hands in the mix and learn to prepare famous and delicious traditional Greek cuisine recipes at a cooking class, or simply enjoy these recipes at a local restaurant or in a private environment, a beautiful veranda of a local house.
For joined shore excursions from Katakolon to Olympia, contact our associates at OlympicTours.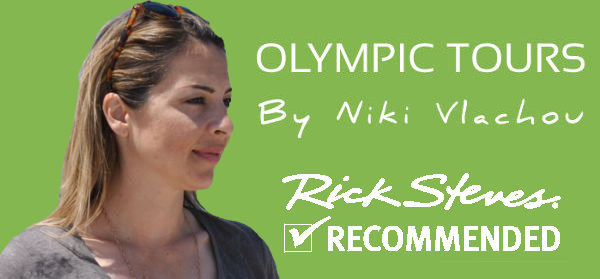 For general information about Olympia and the surrounding area, visit OlympiaTravelGuide.